Apple will release the third quarter report of 2020 after hours on July 31. The market is still optimistic about the company's medium and long-term development; the service department will continue to support Apple's growth. Apple is due to announce its third quarter results after hours on July 31, local time. Unexpectedly, due to the impact of the new crown epidemic, apple failed to provide guidance for this quarter for the first time in nearly 20 years, which made investors pay more attention to the financial report meeting and whether Apple can withstand the test of the new crown epidemic.
although Apple didn't give financial guidance, it didn't affect analysts' forecasts of various data. Overall, Wall Street has a more optimistic outlook for apple.
in terms of revenue, based on the forecast data of Wall Street investment banks such as J.P. Morgan, Needham, loop venture and wade bush, Apple's revenue in the third quarter is expected to reach $52.14 billion, down 3% year-on-year, the first drop since the second quarter of fiscal year 2019.
in terms of earnings per share, investment banks have different opinions. It is estimated that Apple's earnings per share in the third quarter will range from $1.55 to $2.47. If calculated by an average of $2, earnings per share will drop by 8% year-on-year, which is the biggest drop since the fourth quarter of fiscal year 2016.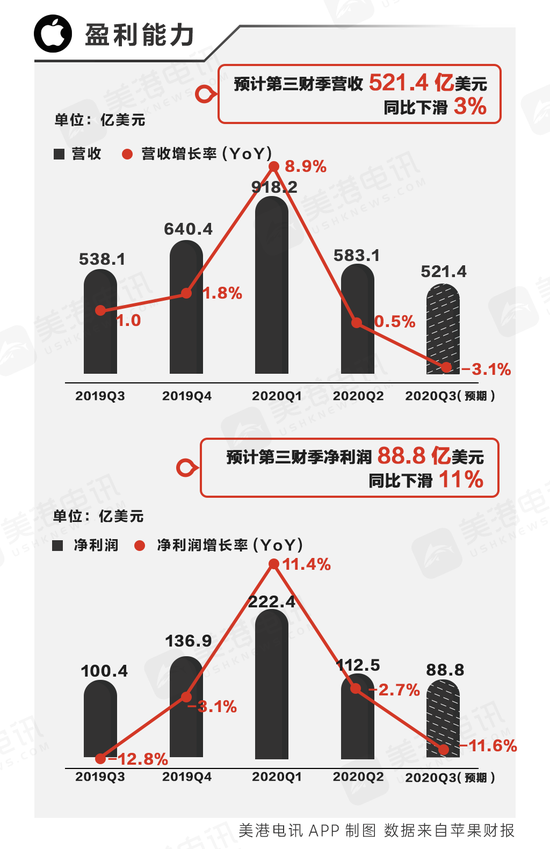 still, this is an optimistic expectation for apple. In early March, during the new crown epidemic, apple closed many stores due to China's blockade, which seriously affected a large number of suppliers. With the spread of the epidemic to the world, more shops have been closed, and the economic restart of western countries is still in the air. In this case, these expectations are considered by investors as signs of Apple's recovery in the future.
in the next financial report meeting, the revenue of Apple's service department will be the focus of investors. In recent years, Apple CEO cook has been paying great attention to the development of the service sector, and achieved considerable growth. In the past two years, Apple's Services Division has achieved a gross profit margin of 61% – 65%, twice that of its hardware products division.
investors are quite optimistic about Apple's long-term service + product strategy. Apple launched its mobile game platform Apple arcade and streaming media service Apple TV + in the second quarter of last year, with revenue of the service sector reaching a record high of $11.5 billion. Some analysts pointed out that during the epidemic period, the use of services such as apple care, apple pay and iTunes increased significantly, which is a positive signal for the growth of Apple's service sector in the second quarter. At present, the revenue of Apple's service department accounts for 17.5% of total revenue, which is expected to continue to grow.
granite investment analyst Timothy Lesko pointed out in an interview that the service sector will be the main driver of Apple's growth at a time when iPhone sales are declining due to the impact of the epidemic. "More investors will realize that apple is no longer relying on the iPhone alone to sustain growth; the diverse ecosystem that Apple has built will help its valuation grow," said Katy Huberty, an analyst at Morgan Stanley
the analysis report of visible alpha, a consumer research company, pointed out that Apple's adjustment to gradually shift its strategic focus to the service sector will continue to show results in this quarter, and grow against the trend in the global demand downturn. Apple is expected to record a 15.4% growth in service revenue this quarter, continuing to maintain a strong performance.
during the epidemic, the production and sales of iPhones were severely affected by the shutdown of suppliers, the closure of retail stores and the reduction of consumer spending. According to Gartner, Apple's overall iPhone sales fell 8% in the second quarter, which is a big blow to Apple's revenue.
However, during this period, some of Apple's products grew against the trend. MacBook, which has always been a small part of sales, has seen a short-term increase in demand for people to work remotely. According to the Taiwan media "electronic times", an upstream supplier of Apple said that Apple increased the order of MacBook Pro, and the shipment volume in the third quarter is expected to increase by 20% month on month. Similarly, iPad sales have increased due to the demand for telecommuting and learning.
there are also brilliant members on the iPhone product line. After Apple released its new iPhone Se in the second quarter, the product was quickly sought after by consumers and even sold out of stock in some places. Apple CEO cook praised the iPhone Se in a conference call last quarter, even though sales were slightly lower than expected: "as the cheapest member of the product line at present, the iPhone se has received a warm response among consumers. Many of them want a smaller phone with the latest technology, some even from the Android camp. "
many investment banks and analysts are optimistic about Apple's future performance, recognize that Apple's share price has a large room to rise in the medium and long term, and appeal to investors to take a longer-term view to obtain higher returns.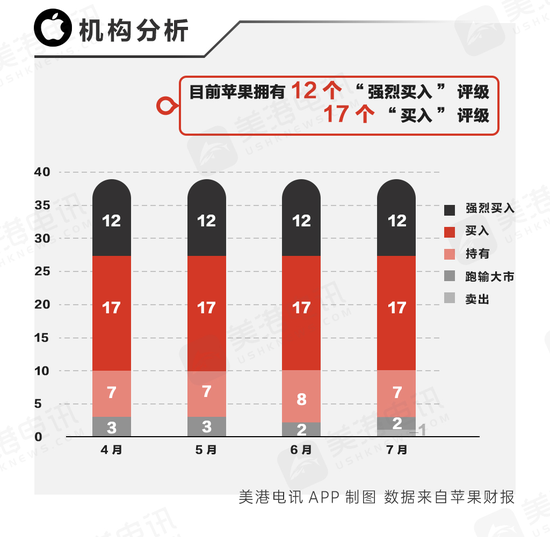 Needham analyst Laura Martin raised Apple's target price from $350 to $450. In a recent report, she pointed out that Apple creates an ecosystem and creates a part of fixed demand that can offset the impact of changes in the number of consumers.
gene Munster, an analyst at loop venture, believes that the new iPhone released in the autumn and the popularity of 5g will revive consumer demand. In addition, he believes that Apple TV + has the potential to grab a share in the streaming media market, which is a growth point worthy of attention.
JP Morgan shares a similar view. In a recent report, J.P. Morgan raised the target price of apple from $365 to $425, pointing out that Apple's share price has much room to rise in the medium and long term. The favorable factors include the demand for remote work during the epidemic period, the continuous growth of the service sector, and the release of new iPhones in the autumn.
Dan ives, an analyst at Wade bush, raised Apple's target price from $425 to $450 in his report. He believes that Apple will maintain medium and long-term growth momentum with 5g and service sectors, and its market value will reach $2 trillion in 2021. Apple's market value reached $1 trillion in 2018, and its current market value is about 1.6 trillion.